Watching his Panenka trickle into the centre of the goal, Achraf Hakimi turned back, almost broke into a dance step, then froze, perhaps in a sudden surge of emotion. His teammates, their arms spread out to embrace him, rushed onto him. Hakimi, as if teasing them, tore away into the direction of Yassine Bounou, the goalkeeper they fondly call Bono, the rockstar of the night who made a brace of saves in the shootout, off Sergio Busquets and Carlos Soler, the second and third attempts of Spain. Their first shot, by Pablo Sarabia, had rebounded off the post, as Morocco beat Spain 3-0 in the tie-breaker after the game ended goalless after 120 minutes.
The celebrations never ceased in the most historic of nights in Moroccan football. Ever the underdogs, the best they had ever managed was the pre-quarterfinals of the 1986 edition, powered by their golden generation, but crashing out to a Lothar Matthaus goal in the 88th minute. This batch of 2022 — with no such reputation —ensured that they didn't endure any last-minute pain or pangs.
That the victory came against Spain, with whom they share a border and have had fractious diplomatic ties and territorial disputes in the past, would have made the occasion sweeter. Ironically, it was a Spain-born player, Hakimi, whose kick kicked Spain out of the tournament. Bounou is on the rolls of LaLiga side Sevilla too. Several others too are either born in Spain or attached to Spanish clubs.
🇲🇦 The dream continues for @EnMaroc #FIFAWorldCup | #Qatar2022

— FIFA World Cup (@FIFAWorldCup) December 6, 2022
Essentially, it was a triumph of Morocco's defensive resilience, of their desire and doggedness, of will and courage. Spain bossed the game, with their array of technical players — they enjoyed 76 percent possession, had 13 attempts on goal (Morocco mustered only six). Young though they were, most of them are blue-eyed boys of some of the biggest clubs in the world. As many as five of the Spaniards turn up for Barcelona, three for Real Madrid. Contrarily, Morocco had just a couple of big names; Hakim Ziyech and Hakimi. But in the end, none of it mattered: fame or fanfare, pedigree or past.
The grandeur of the occasion did not overwhelm Morocco's coach Walid Regragui, a home-grown coach, as he stuck with his principles. Defend meticulously. His team, after all, has conceded a lone goal in the entire tournament, an own-goal off a wicked deflection. So he let Spain enjoy all the possession and midfield superiority, and his team would attack on the break.
Cagey contest
What ensued was a nervous match, which ignited into life only in sporadic bursts. Spain rotated and recycled the ball among themselves forever without any real penetration. And every time they seemed like flicking the switch, Morocco's defenders would stoutly defend and lash the ball upfield. Though Spain's possession was sustained, their passing and pressing were not relentless.
📸 👑 🇲🇦 pic.twitter.com/PzMqMjlMhn

— FIFA World Cup (@FIFAWorldCup) December 6, 2022
It was not all defence, though. They produced some eye-pleasing moments when attacking as well. None more so than the trick Sofiane Boufal pulled on Marcos Llorente. He subjected the Spaniard to an outrageous feint that left the defender swishing thin air twice in as many seconds and leaving him on the floor.
As the match wore on, Spain pressed higher, their passing patterns got faster, shots flew in and out of the goalmouth like wanton kids flying paper planes. Spain knocked, banged, pounded and kicked on the scarlet door but it stood firm like a barn-door. Almost the entire second half was played on the edge of the Moroccan box, and a quarter of it inside it. But they didn't wilt. Romain Saiss was immense, as was his accomplice Nayef Aguerd, who limped off late in the second half. The support from Hakimi and Sofia Amrabat was equally incredible, as they repelled wave after wave of Spanish intrusions.
The end of normal time brought relief. But extra time loomed. Moroccan legs were wearying, made to look wearier by the pace of Nico Williams, another substitute. Spain got buzzier; Morocco's defence, literally the entire team, got busier. Spain might have felt like driving on the Bosphorus Bridge in Istanbul, considered the most traffic-choked road in the world, at peak hour. Just as one thinks the road is free, another car pops up from the left, another pounces from the right. Between a Spanish boot and goal was often a Moroccan head or shoulder, toe or torso.
Advertisement
There, though, was nothing cynical or brutish, no bone-jarring challenges or tangled legs. That they copped just one yellow card in 120 minutes nails the point. It was a defensive masterclass in the fine tradition of Italian catenaccio.
Also Read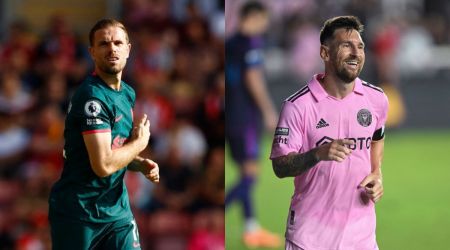 'Can't understand why coming here would damage Henderson's legacy and Mes...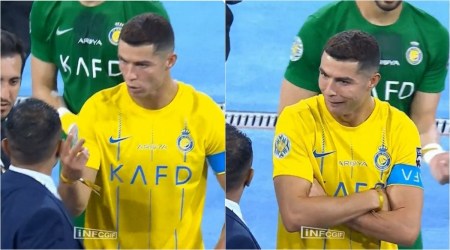 Watch: Cristiano Ronaldo looks bemused after being snubbed for player of ...
Jose Mourinho substitutes Roma player, forces his own team to play with 1...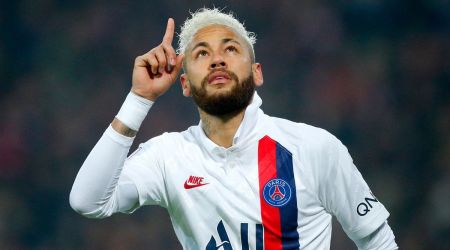 Neymar joins exodus from Europe for 'greener' pastures in Saudi Arabia
In the end, Saiss could hardly walk. Morocco had exhausted their substitutes; yet they fought, yet they battled, as if their life clung onto the result of the match. As spirited as the players were their fans, who cranked up the decibels even in the dying moments of the game, puffing and panting, sweat dripping from them like water, yet unconquerable in the spirit.